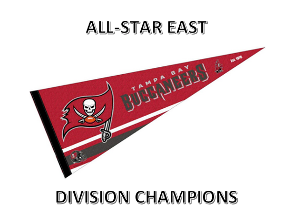 Tom Brady takes a knee on the mid field logo as the Bucs, win 41-14. The Buccaneers won 5 of their last 6 games to separate from the pursuing Browns. This was a must win, not to make the playoffs, but to build confidence. The Browns beat the Bucs early in the season 21-18 in which the game ended on a Brady interception in the final minutes. The Bucs will now await the playoff seeding to focus on goal number two, a playoff win.
The Bucs took the opening drive for a 3 yard TD catch by Godwin. The drive was aided by a critical roughing the passer penalty negating a Denzel Ward pick 6. Coach CTown would not be discouraged and continued to march down to the Buccaneer 8 yard line for 1st and goal. 1st & goal Chubb to the 4. 2nd & goal Chubb stopped at the one by Carlton Davis III. 3rd & goal Chubb again stopped at the 1 by Carlton Davis III. There was no doubt what was on the line in the game. Coach CTown & Chubb finally punch it in on 4th down slipping behind LG, all tied at 7, Coach ELBuccs took the punch and hit back with another TD drive as Godwin got an 8 yard catch in the back of the end zone, Bucs 14-7 with 2:15 left in the half. The Browns again began to march getting down to the Buccaneers 27 when, "Mama there goes that man again!" Carlton Davis III said enough and undercut a pass for OBJ. Coach ELbuccs was forced to punt after a drop with 45 seconds left.
They say things can change in a minute. That's no lie! In the final minute of the 2nd quarter Baker threw 3 picks resulting in 10 points, Bucs 24-7 to end the half. Coach CTown would get the ball to start the 2nd half and the road to recovery. However, the Browns went 3 & out. Coach ELBuccs smelling blood proceeded on a time consuming, 9 play, 69 yard TD drive capped by an Evans 29 yard TD catch, Bucs 31-7 with 1:59 left in the 3rd. After another Baker Mayfield pick by Lavonte David the Bucs closed out the 3rd quarter on a RoJo 9 yard TD run, Bucs 38-7. The Browns would add a TD pass to Landry too little to late, Bucs 38-14. Ryan Succop ended the scoring with a 53 yard FG late after Baker's 5th interception, Bucs 41-14 final.
Good Game Coach CTown! Best hopes here on out. Looks like you will make the playoffs. Maybe we meet a third time for the rubber match.